Artist Jamie Hewlett is known for both his creation of Tank Girl and, with Blur frontman Damon Albarn, being one half of the meatspace team behind animated electronic superstars Gorillaz. And after a five-year hiatus, it looks as though Jamie is ready to help bring the quartet back to life.
Over the weekend Jamie posted a couple of new pieces of artwork to his Instagram, much to the delight of fans:
Noodle's gotten yet another anime overhaul, with hair sticking way up like a Sayian and a new set of goggles. The sight of her sent Hewlett's followers wild, immediately speculating the band's return. Jamie followed up with this complete coloured version of Murdoc that he had previously teased, looking fresh, fleshed out, and as manic as ever.
After questions about the band's revival started to pile up, Hewlett answered with just a cryptic "Yes Gorillaz Returns".
The band has been hanging out on the drawing board for a few years, after Albarn and Hewlett had a falling-out following the release of 2011's The Fall. But the two have since patched things up and Albarn has hinted that he is aiming for a 2016 release for new music.
We honestly can't wait.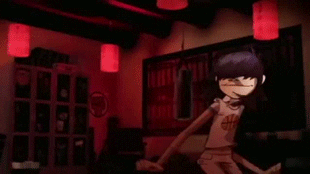 Reactions